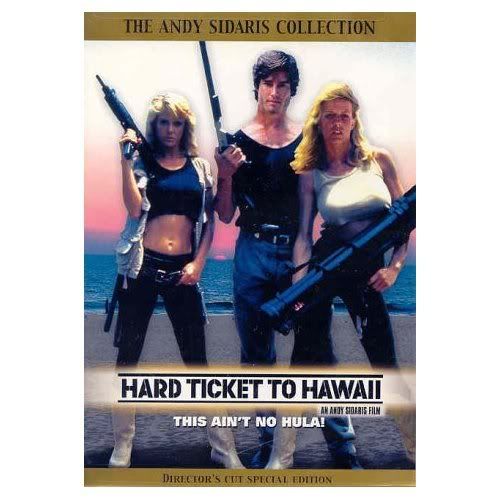 IMDB
From Mr.Skin:
Drug smugglers would be less inclined to avoid capture if all the agents assigned to catching them were as potently pretty as the scantily clad law-enforcement posse wondrously exposed in Hard Ticket to Hawaii (1987). A rousing and arousing meld of action, intrigue, and Playboy-quality skin, this Andy Sidaris-directed adventure flick is replete with engaging special effects. No effect is more special than … Become a Mr Skin Member and get the full review
Heh. I am no member so I don't get the full review, but you get the point. By special effect, I guess they mean "unnaturally big, gravity-defying boobies".
Look up "Cheesy Trash/Exploitation" and you'll probably see Hard Ticket to Hawaii cited as a prime example. Big guys with Big Guns. Women with Big Tits. Cheesy, unintentionally funny dialogue that either will make you laugh out loud or wanna puke. Gunfights that seem to be orchestrated by a 5 years old kid.
Megaupload:
http://www.megaupload.com/?d=8ZSCDA20
(83mb)
Rapidshare:
http://rapidshare.com/files/167114562/Hard.ticket.to.Hawaii.1987.dvdrip.xvid-yakorip.rar
(83mb)
Thanks to yakorip on CG for this awesome rip!!
Now this is what I call a great rip. Excellent video quality and completely standalone-compatible.
File : 83 MB, duration: 0:06:11, type: AVI, 1 audio stream
Video : 73 MB, 1668 Kbps, 23.976 fps, 672*512 (4:3), XVID
Audio : 9.90 MB, 224 Kbps, 48000 Hz, 2 channels, AC3, CBR