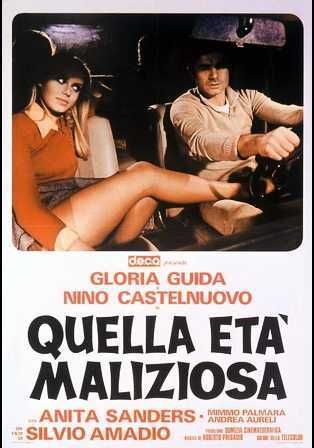 IMDB
Uninteresting Italian drama about a ménage-à-trois and all that it entails, including Sex and Death. Basically it's about this guy who does gardening for a lovely widow (Anita Sanders) living on an island with her teenage daughter (Gloria Guida). He bones the daughter then he bones the mother then some poor old fart gets his head bashed in, not having even boned anything. Poor guy!!
Highlights:
-Gloria Guida strip-dancing by her window. Nice pink panties!!
-More mature but no less beautiful Anita Sanders stripping for a guy before pushing him away. What the hell?
-Gloria Guida lying fully naked in a bed of pine needles, waiting for her lover. I guess in the heat of the moment, she didn't feel the pain.
-Same lucky guy giving her a massage, starting with her back then she turned over and he got to put cream on her breasts. No, not that kind of cream, you pervert!!
Download:
http://www.megaupload.com/?d=W7ED7BZB
http://rapidshare.com/files/203779101/Quella.Eta.Maliziosa.1975.dvdrip.divx.rar
File : 62 MB, duration: 0:07:42, type: AVI, 1 audio stream
Video : 53 MB, 965 Kbps, 25.0 fps, 448*240 (16:9), Divx v5,
Audio : 8.81 MB, 160 Kbps, 48000 Hz, 2 channels, MP3, CBR,